I've been trying to login, I have reset my password twice but still cannot login. I'm unable to login to my account. I see the Encyro homepage when I login instead of my account page with my messages.
One of the possible reasons your login fails despite entering the correct password is if device some related security checks fail. A common reason for that is when your computer's time and date information is not correct for your timezone. 
Sometimes users change their computer's time when they travel to a different time zone or if the default time zone was not correctly set when they purchased the computer. Instead of changing the time, please change your time zone. 
For instance, if you travel from New York to Chicago, do not simply change the time setting on your computer by one hour - this will cause your computer to have the wrong time for its time zone. Rather, set it to the US Central time zone.
Or, if you purchased your computer in the US or from a US manufacturer, and then travel to a different region, your computer may default to the US Pacific time zone. If you change the computer time to show your local time, that will be the wrong time for the US Pacific time zone.
To change your time zone on a Windows 10 PC, open up the Settings menu and click Time & Language. Or simply type "Date and time" in the search box (or Cortana box) near the Windows Start button in the bottom left of the screen.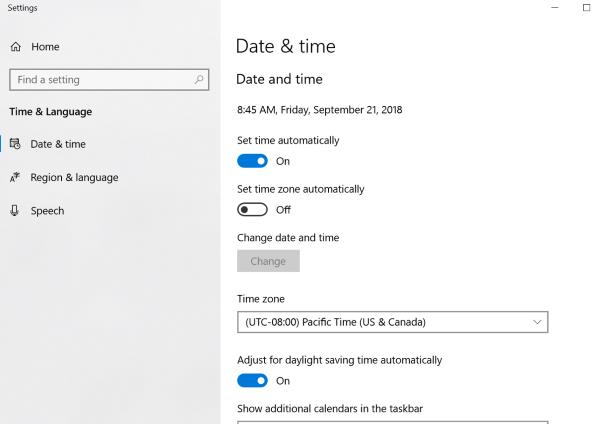 On older versions of Windows, right-click on the time shown in the bottom right corner of your computer and choose the option to Change Date/time. Then you will likely get a dialog like the following. Instead of clicking "Change date and time" click the second button "Change time zone". After you set the correct time zone, click "Change date and time" to set the current time.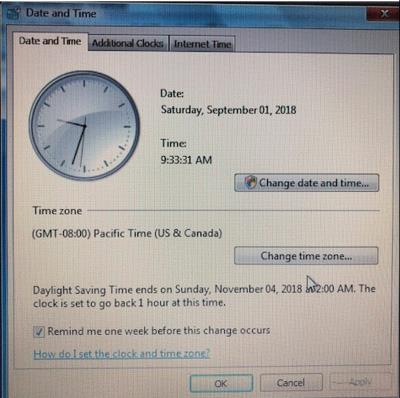 For Apple Macs, choose Apple menu > System Preferences, then click Date & Time. Here you will have the option to edit the time zone as well. See instructions from Apple. For iOS devices see these instructions.
Other possibilities: The login and other functionality on the Encyro website will not work if cookies are disabled in your browser. To allow cookies in your browser, refer to the following instructions:
The website may also not correctly on older browsers, and so we recommend updating your browser to the latest version.