Can I enforce a password for my messages? Can I make it mandatory for my clients to use a password or create an account? How do I remove the option to receive without a password?
If you do not wish to allow access to your secure messages with temporary access links sent in email notifications to your recipients, edit your compliance settings (Encyro Pro membership is required). Here is how:
Go to your account Settings page.
Scroll down to Compliance: HIPAA, GDPR... and click it to open the compliance settings area.
Enable compliance: If not already checked, check the box next to "Enable Compliance."
Make sure that the box next to "Allow others to receive my messages with temporary access links" is not checked.
Enter your password and click Submit.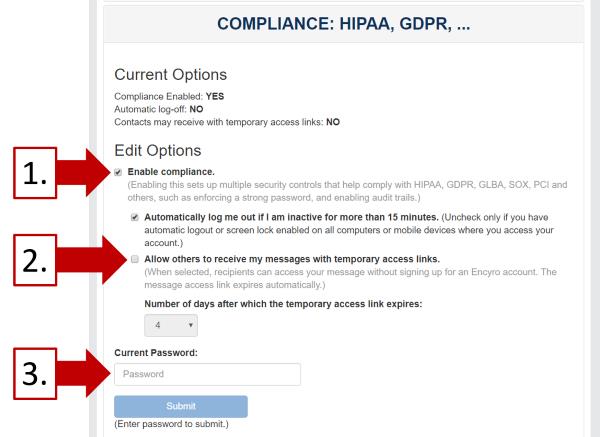 If your current password is not a strong password, you will be asked to select a strong password (one with a mix of uppercase and lowercase letters, numbers and symbols).
Any messages sent from now on will require the recipient to access them with a password. The first time a recipient receives your Encyro message, if they do not already have an Encyro password, they will be required to create a password (a free Encyro account). All subsequent messages can be accessed using the same password.
If your account is part of an organization, the above settings will not be available under your own account settings. Instead, you must change the compliance settings under organization settings. You will need data administrator permissions.