How do I open a secure message that I received? Someone sent me a secure message using Encyro, how do I read  it? How do I download the files received in an Encyro secure message?
If You Do Not Have an Encyro Account
When someone sends you a secure message using Encyro, you will get an email that looks like this (you will see the sender's name instead of My Name, and the sender's business logo instead of the example logo below):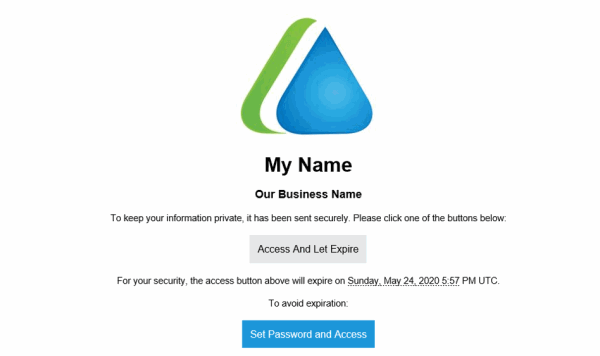 Click the gray button that says "Access and Let Expire" to quickly access your secure message. You will be taken to a web page that shows your secure message and any attached files. This web page looks like the one below (you will see the sender's logo instead of the example logo):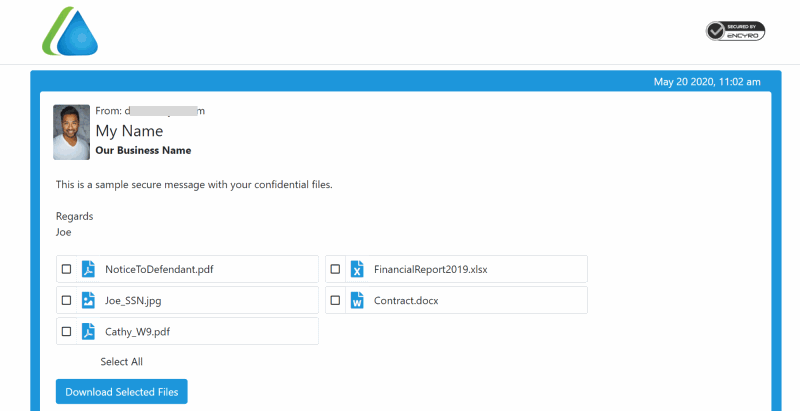 You may click any file to download it. To download multiple files at once, click the checkbox icon next to each file you want to download (or click the "Select All" button). Then click "Download Selected Files." 
Secure Reply: Just below the message you are also offered an option to send a secure (encrypted) reply.
Expiry: The message will expire in a few days (expiry time will be shown in your email). If the message has already expired, then instead of the secure message, you will see a web page that says so.
Alternatively, from your email, you could click the blue "Set Password and Access" button. You will be asked to create a password and then shown your message. 
The screen to create a password already has your email, you only need to enter a new password.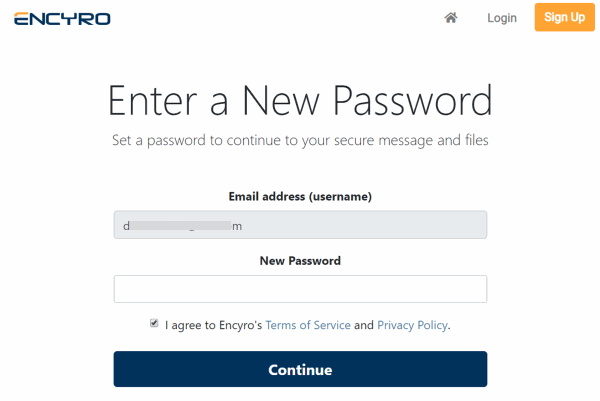 You will then see your received message in your Encyro account, and will have the option to reply, forward or delete it. Your message will not expire and you can continue to access your message and received files later.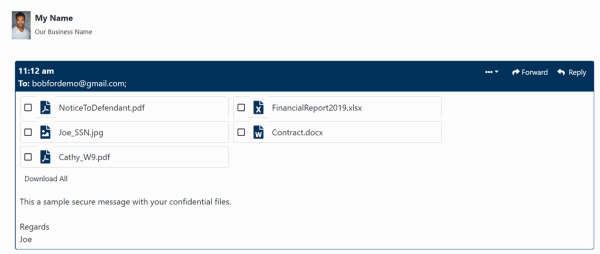 Compliant Senders (for HIPAA, GDPR, FINRA, SEC, IRS, other)
In some cases, if required by the sender's compliance requirements, the option to access without a password  will not be offered. The email will then only have the option to "Set Password and Access."
If You Have an Encyro Account
If you previously created an Encyro account/password, such as when you previously received an Encyro message or sent a reply to one, the email notification regarding your received secure message will look like this:

When you click the "Access Now" button, you will be asked to login to Encyro, if not already logged in. Then, you will be shown the message in your Encyro account.