To send a secure message with a scanned signed document, a voided check, a receipt or other such paperwork, it is often a lot easier to click a picture with a phone camera than scan it using a scanner. 
If you are logged in to your Encyro account, simply tap "Compose." If you are not signed in, go to the upload page of your receiver. For instance, if you are at a client location and want to take a picture of a whiteboard discussion and send it to yourself, you could open your own upload page on your phone's browser. 
When composing a new message or using the Encyro upload page on a phone, the "Browse" button automatically changes to "Browse or Take Photo." Click that button and your phone will show you options to take a picture or select a previous photo from your phone storage. On an iPhone, the options look like:
Here you could click "Take Photo or Video" to take a picture using the phone camera.
On an Android phone, a similar menu with options such as "Camera", "Camcorder", "Sound Recorder", and "Documents" will show up (exact options may vary across phone operating systems and manufacturers).
Once you take a picture, the phone may prompt you to use the photo or retake it. For instance, on an iPhone, this may look like: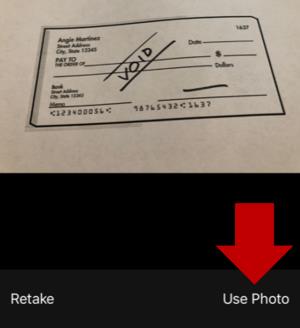 Once you select to use the photo, it will be automatically attached to your Encyro message: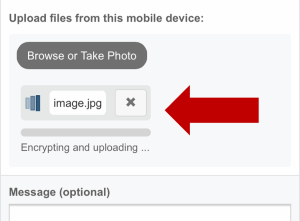 Once uploaded, the photo will appear just like any other secure file attachment. You may then send the secure message as usual.