You may add a contact without sending a message. This makes it easier to send a message later, and also shows the client's name on the folder if you later receive a secure message or upload from them.
To add a contact, login to your Encyro account and scroll down to below all your folders with messages. Here, click the Add Contact button. You will see a form to enter your contact details, similar to the following: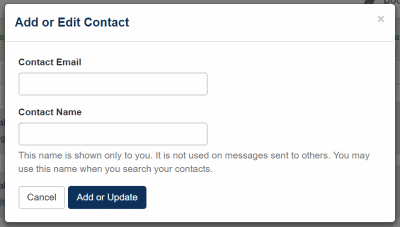 Enter the desired email and name for your contact and Click Add or Update.
The contact will appear as a folder below your other folders, organized by starting alphabet. 
The contact will show up in search results when you start composing a new message and type a portion of the contact's name or email.
You may:
Click the contact to send them a message. 
Right click (Ctrl-click on a Mac, long-tap on a mobile touch screen) the contact to edit or delete.