A Pro member can add additional users (employees, team-mates, practice partners, staff) after purchasing their own membership. Clients or contacts do not count as additional users for your account - you can have an unlimited number of clients.
All users in the organization benefit from common branding, uniform compliance settings, and unified billing. You can assign different permissions to each user to delegate responsibility. You may give up your administrator permissions after assigning at least one other user as an administrator.
Adding users involves two steps: 
Purchase the required number of user seats (user licenses), and 
Invite those users by entering their email address. 
Additionally, you may wish to configure the upload page address and other brand or compliance settings for each user.
If you have not already purchased your own membership, go to your Settings page, scroll down to Membership, and click "Purchase Now."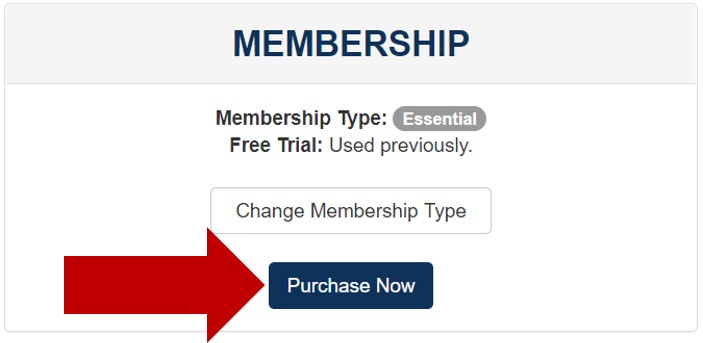 After completing your purchase, you can add additional users.
To purchase additional user seats: Once you have purchased your own membership, login and go to settings. Scroll down to Membership and click "Add Users". Here you can purchase as many user licenses as you need.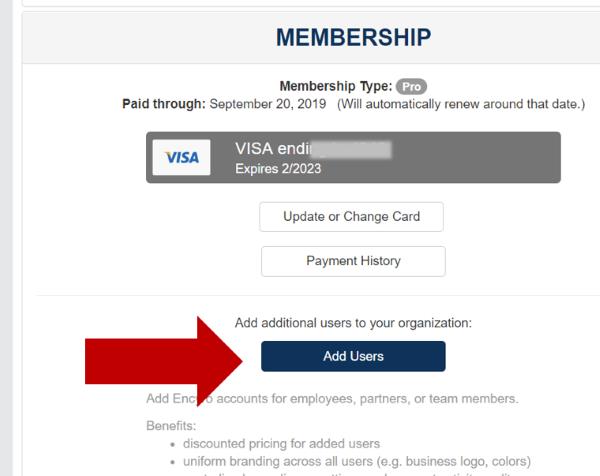 Invite users: After completing the purchase, you will reach the Organization Settings page where you will set a name for your organization. The organization name must be set before inviting users. The organization name is typically your business name that you want to be displayed to your contacts.
On the Organization Settings page, you will have the option to invite your users by entering their email addresses and names. Optionally, you may assign an upload page for them, and grant them certain additional permissions (or do that later).
The invited user will receive an email from Encyro asking them to confirm they are a part of your organization (we ask for a confirmation because your organization will have access to their Encyro data). If they click the accept button in that email, they will get an Encyro account within your organization.
Optional: After you invite a user, you can configure several user level settings such as their upload page address and permissions. You can also designate them as a receiver for uploads sent to your organization-level upload page.
More details regarding organization settings are available in: Team or Organization Account Setup.
If you already added users before and want to add more: Go to your Organization Settings page (or go to your Settings page and click on Organization Settings). Here, if you are an administrator with billing permissions, you will see a button "Add Users" under Billing.
Note: You only need to add users who are on your own team or within your organization or company. Any clients or contacts, with whom you communicate securely using Encyro, need not be added as users in your account.
(Additional users cannot be added on trial memberships.)
For more details on adding users and organization setup, customizing branding or compliance, and user permissions, see: Team or Organizational Account Setup.