The only thing you must set up to activate your upload page is your upload page web address, also known as your upload page URL. All the remaining settings are optional, though highly recommended. (Feel free to set up your upload page brand elements in any order.)
To set or change your upload page web address:
Go to your Encyro account and click on "Settings" and then click "Brand, Upload Page" in the left panel.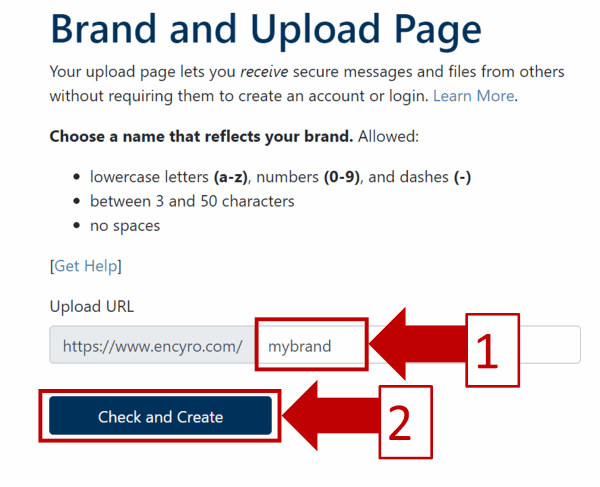 Under Upload Page URL, in the box following https://www.encyro.com/, enter a brand name based on your business name. Note that spaces are not allowed. Use only letters and numbers. Dashes can be used if needed. 

For instance, if your business name is Alice and Bob Company, you could enter "aliceandbob" or other name to reflect your brand.
If you have a LinkedIn profile with a custom name such as https://www.linkedin.com/in/yourbusinessname or a Facebook page such as https://www.facebook.com/yourbusinessname, we recommend that you try to use the same business name on Encyro to maintain consistent branding.

Click "Check and Create". If the name you entered is available, it will now be reserved and activated for you.
Note: These instructions are for a standalone Encyro Pro account. If your account is part of an organization, see organization settings instructions.